"It'll fly better, right?" Taekwondo debutant Kim hopes to shake up Tokyo Dome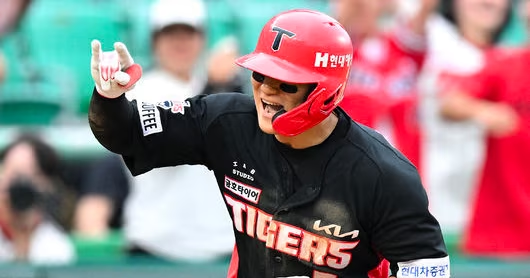 "It will fly better, right?".
Kim Do-young, the KIA Tigers' "Little Lee Jong-bum," made his big debut at the Tokyo Dome. He wore the first Korean flag on his chest and expressed his excitement for the international stage by saying, "I'm looking forward to it." I wanted to step on the stage even more because it was the Tokyo Dome. He was also determined to do well in Japan.
Kim will be representing Korea at the Asian Professional Basketball Championship (APBC) at the Tokyo Dome on November 16. He was one of the 26 representatives selected. She earned the Taekwondo mark just two years after turning pro. She was a strong contender for the Hangzhou Asian Games, but was not selected due to injury.
He fractured his foot in the second game of the opening round and was sidelined for 80 days. He returned on June 23 and batted .333 with seven home runs, 47 RBIs, 72 runs scored, 25 stolen bases, an OPS of .824 and an honorable mention in scoring position in 84 games and 385 at-bats. 카지노사이트가이드 He went from being an offensive staple to an everyday player. The only disappointment was that he didn't play full-time. Now, there is an urgent interest in seeing what he can do at the international level.
Kim had high hopes for the Tokyo Dome. "I played baseball at the Gocheok Dome and I loved it. I heard that the distance is better in a dome ballpark. I think my skills will be better in the dome. The Tokyo Dome is also big, so I wanted to play in the APBC even more," he laughed. Kim went 2-for-6 at the Gocheok Dome this year with one double, one triple, two RBIs and two runs scored.
She also expressed a strong sense of responsibility for the Taegeuk Mark. "It feels different to be selected for the first time since I turned pro. It's nice, but every player dreams of making the national team. It gives me a lot of responsibility and I can only think about doing well. I want to play every match, preferably as a tablesetter. I'm curious to see how much my skills will improve after competing in the tournament."
"Japan has a lot of good players, so I'm looking forward to it, and I'm excited to see if it will work on such a stage. I know (batsman) Maki well, so I'm looking forward to meeting her." Maki is the star batsman for Yokohama DeNA. In March, she led Japan to the WBC title. This year, he went 29-for-39 with 29 home runs and 103 RBIs. He finished third in home runs and fourth in RBIs. He has been touted as the No. 4 hitter for Japan.
He was also wary of Japanese pitchers. "Japanese pitchers have a different command. I always wondered what it would be like. At the Hangzhou Asian Games, I didn't think (Japanese pitchers) were at that high level. I think this tournament is more important because I can meet good pitchers, and it will be fun if there is a lot of competition. I want to do better," he said, showing anticipation and confidence.
Team Japan's pitching staff is loaded with quality pitchers, including a wild card. Tatsuya Imai (25-Seibu) is 10-5 with a 2.30 ERA. He has struck out 130 batters in 133 innings pitched and throws a fastball over 150 mph. Left-hander Kazuto Taguchi (28, Yakult) is 3-5 with a 1.86 ERA in 33 saves. He is second in the Central League in saves. Best case scenario, Kim will be competitive against them.