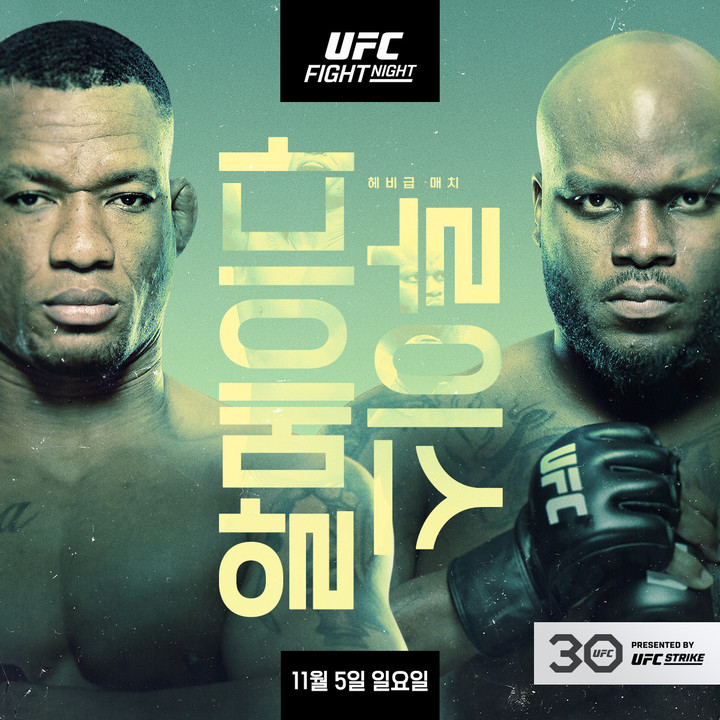 Two fighters with animalistic athleticism, "The Brazilian Freak" (32, Brazil) and "The Black Beast" (38, USA), are set to meet.
The two will meet in the fifth round of the main event of UFC Fight Night: Almeida vs. Lewis, which takes place at the Ibirapuera Arena in São Paulo, Brazil, on Nov. 5 (ET/PT). The event pits No. 9-ranked Almeida against No. 10-ranked Lewis in the UFC heavyweight division.
Riding a 14-fight win streak, Almeida is a Brazilian heavyweight powerhouse who hasn't been seen in a while. Brazil, a traditional mixed martial arts (MMA) powerhouse, has been quiet since crowning two champions, Junior dos Santos (39, BRA) in 2011 and Fabricio Werdum (46, BRA) in 2015. Brazilian fans are hoping that Almeida, a specialty grappler, will once again bring the heavyweight championship belt to Brazil.
Almeida said he sees "a title shot opening up" at heavyweight right now. A showdown between heavyweight champion Jon Jones (36, USA) and No. 1 Stipe Miocic (41, USA), which was scheduled to take place at UFC 295 next week, was canceled due to Jones' injury. Instead, there will be an interim heavyweight title fight between No. 2 Sergey Pavlovich (31, Russia) and No. 4 Tom Aspinall (30, Great Britain).
With the top-five contenders fighting each other and the title picture cleared, the opportunity for a rising star could quickly become available. "If I beat Lewis this time, I'll get a title shot, or if I get one more win, I'll get a title shot," Almeida said of his championship belt aspirations.
The São Paulo event will be Almeida's first real test as a title contender. His opponent, Lewis, is a two-time UFC heavyweight title challenger and a powerhouse who defeated former UFC heavyweight champion Francis N'Ghanou (37, Cameroon). He is a literal beast of a fighter and has 14 knockout (TKO) victories, the most in UFC history.
Ground game is key to winning. Almeida, a Brazilian jiu-jitsu (BJJ) black belt, has finished all five of his UFC fights with takedowns followed by ground-and-pound or submissions. Lewis, on the other hand, is a grappler killer who excels on the ground. Many top grapplers have been knocked out by Lewis, including UFC heavyweight No. 5 Curtis Blaydes (32, USA).
"I think our skill levels are similar, especially on the ground," said the striker. I think I can get a leglock submission on Almeida early in the first round," he teased.
"In my last fight, Jairinho Rosenstruyk couldn't get up until I took him down and he got back to his feet," Almeida quipped, "and I don't think Luis will be able to get 스포츠토토 up once I take him down."
In the co-main event of the night, 15-fight unbeaten newcomer Gabriel Bonfim (BRA), 26, will take on 29-fight (22 W, 1 D, 4 L, 2 T) veteran Nicolas Dalby (DEN), 38.