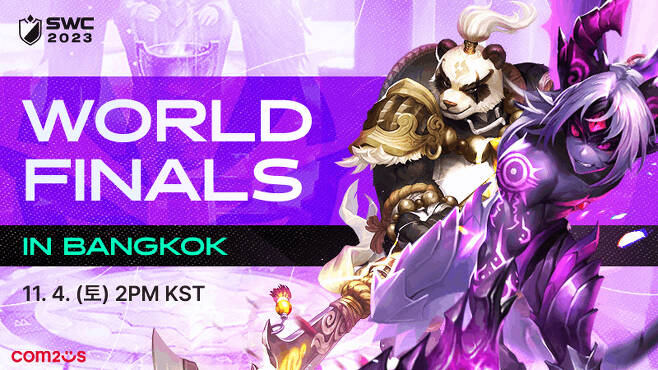 The Summoners War World Arena Championship 2023 (SWC 2023) World Finals, an esports competition to determine the best of the best in Summoners War: Arena of the Heavens, will take place today in Bangkok, Thailand. SWC is a global esports festival that brings together players of Summoners War for the seventh consecutive year.
After returning to the offline stage at last year's SWC 2022 in the midst of the pandemic, SWC traveled to Bangkok, Thailand for the 2023 World Finals, welcoming fans from Southeast Asia to the event. Held at 'IconSiam True Icon Hall' in Bangkok, Thailand, 'SWC 2023' will host more than 1,200 spectators, a significant increase from previous years.
The total prize pool for the SWC 2023 World Finals, which will crown a Summoners War world champion, is set at $140,000 (approximately $180 million). The winner will take home $100,000, with second and third place earning $20,000 and $10,000, respectively. The total prize pool for the tournament, including the regional cups, is $214,000 (approximately $280 million).
The World Finals will feature eight Summoner's War masters from each regional cup. DILIGENT-YC (Asia-Pacific)-LUFIA (Europe), LEST (China)-TAKUZO10 (Asia-Pacific), TRUEWHALE (Americas)-ZERA (Asia-Pacific), and PINKROID (Europe)-BIGV (Americas) are scheduled to compete.
Global casters have predicted Asia Pacific Cup No. 1 DILIGENT-YC as this year's World Champions. Ahead of the World Finals, Comptus asked a total of 22 global casters who will be on-site at the tournament who they think will be this year's World Champion. A total of 41% of casters chose DILIGENT-YC, the 2021 World Champions. He was followed by PINKROID from the Netherlands at 23%, and TAKUZO10 from Japan and ZERA from Thailand at 9% each.
Many casters cited DILIGENT-YC's "hexagonal stats (a game term for a character's perfect stat balance) with monster pools, runes, pick bans, experience, and popularity" as reasons for predicting a win. The team's "determination to become the first two-time champions" and "most dominant way of winning the qualifiers" were also cited as reasons for the prediction.
PINKROID was named as the favorite because it "proved its mettle by winning three consecutive European Cups," while TAKUZO10 was named as the "dark horse of the year."
The fourth match of the quarterfinals between PINKROID of the Netherlands and BIGV of Canada topped the list of most anticipated matches of the World Finals quarterfinals with more than 10 votes. "No one can beat PINKROID's picks, but BIGV's picks are always very reliable and they have a huge advantage in runes," 45% of casters agreed, "PINKROID beat BIGV in the first match of the 2021 Worlds Quarterfinals, so this will be an exciting rematch."
Meanwhile, Seppi, a caster from the Americas who has been broadcasting Summoner's War tournaments and the SWC for seven years, since the tournament's inception in 2017, said that 메이저토토사이트 Summoner's War is loved around the world because "it's a game that can be won or lost in a split second, requiring precise strategy and quick thinking," and that "players from all over the world work long and hard to stay on top."
Korean commentator Skeet, a former player who represented Korea at the SWC 2017 World Finals and will be joining the broadcast for the first time this year, also urged the audience to look forward to the unpredictable matches, saying, "There is no player who is not eager to play."